Three days individual retreat and coaching in the wild Portuguese nature
There is no better way to reconnect with your true purpose than to immerse yourself in wild nature during a Purpose Retreat.
Do you feel tired and out of flow, desperately needing to charge your battery? Or are you full of energy and ready for a new adventure? A Purpose Retreat will bring you rest and peace and at the same time it can give you a boost of energy by deepening your connection with yourself and your surroundings.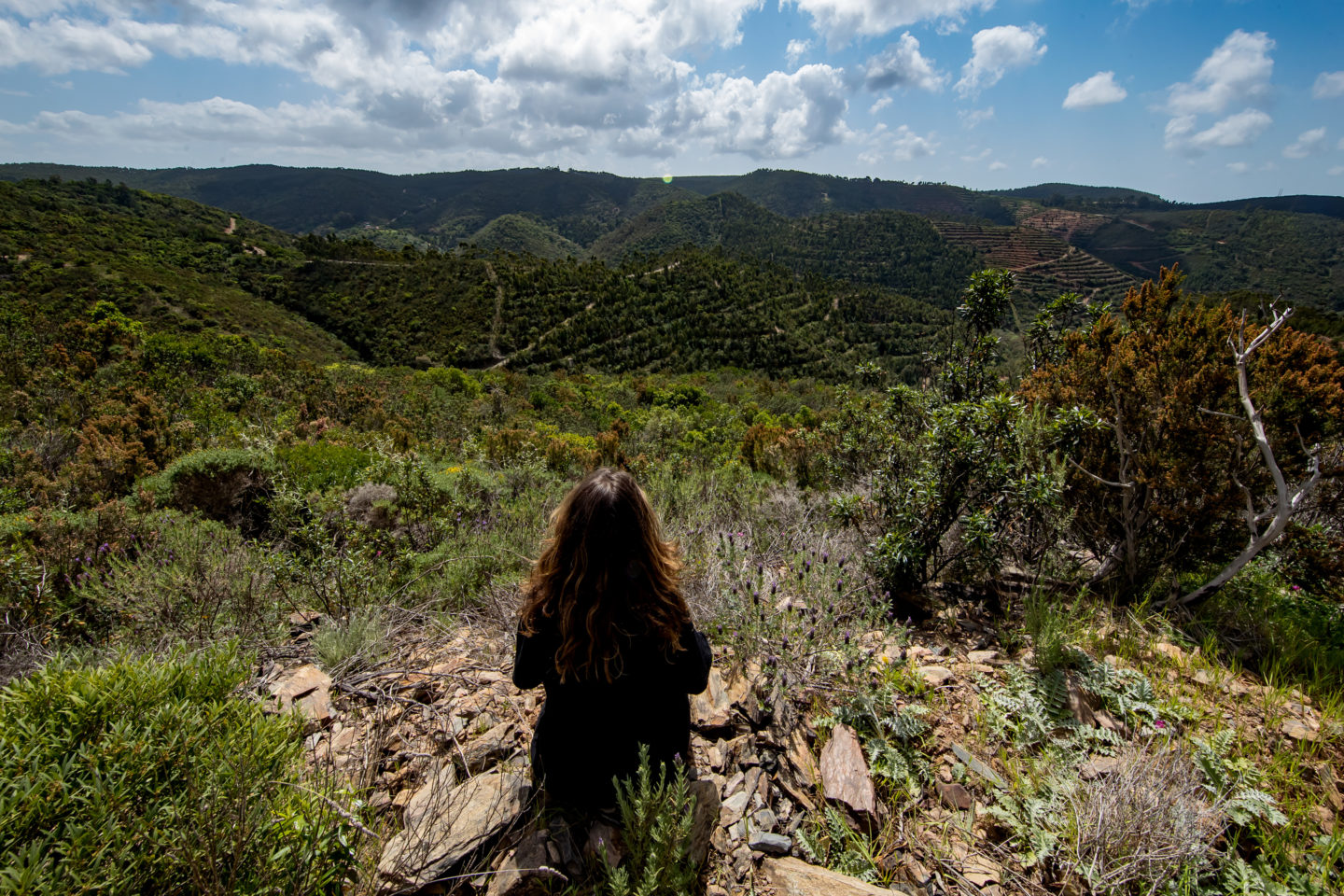 We, humans, are part of nature, but it seems somewhere down the line we forgot. By nature, people want to grow; develop themselves, and are compassionate towards others. But in our hectic (digital) lives we lost connection with our nature.
Every day we struggle with thousands of stimulants and seductions. This makes us react continuously; consume and strive for financial growth. In this constant endeavour for more, we lost our empathy. We lost our contact with nature. We lost ourselves. I believe by restoring our connection with nature, we restore our connection with self.
During a Purpose Retreat you can fully recharge in nature. Connect with all the natural elements; walk bare feet on the fertile soil, finding your way through the green jungle of leaves and herbal plants. Smell the wild flowers and taste the bittersweet fruit of the medronho tree, while you hear the water running from the mountains forming a small river. And an eagle circles high above you in the air.
This is the perfect setting to connect with your true nature. To take a deep dive in your inner wisdom and explore your purpose, your challenges and your next steps. So that after three days you step out of nature refreshed, full of energy, with a new purpose and a path.
Investment: starting at €1250,- ex. VAT and ex. stay. Depending on the accommodation you prefer I'll make an all including price for you. 
---
"Nature creates nothing without a purpose." -Aristotle
The Purpose Retreat consists of:
One 75 min. exploration call 
Three individual 1,5 hour coach sessions in an amazing natural setting in Portugal
Assignments to get aligned with your purpose
A Cacao Ceremony
An Integration ceremony
After the retreat you receive a Purpose document with the highlights of the days so that you have concrete tools to work with on your path towards your outcome.
One 45 min. check-in session after 1 month to evaluate and determine new steps
---
For whoM is this Purpose Retreat designed?
This purpose retreat is designed for leaders and professionals, that like to retreat in nature and take the next steps in their personal development.
---
When is A Purpose Retreat for you?
You feel burned out and out of flow
You feel there's something missing
You want to transform your life
You want to grow as a person and professional
You want to connect with your inner wisdom
You're glued to your phone and computer
You'd love to spend some time in the natural world
You want to recharge.
---
What can you gain from a Purpose Retreat?
A clearer view of your purpose and vision
Feeling more aligned
Confidence in trusting your own inner voice and speaking your truth
Your creative energy is flowing and new ideas keep popping up
More relaxation, better sleep and inner peace.
Knowledge and tools on how to follow your path
testimonials
ARANKA HELPED ME TO GET CLEAR ON MY PURPOSE, GOALS AND LIMITING BELIEVES AND SUPPORTED ME WITH JUST THE RIGHT APPROACH IN ORDER TO KICK START MY NEW PASSION PROJECT MALIBU SANGHA.
– Esther Ruurda, Drake, Founder Malibu Sangha, Malibu.
"THE SESSIONS WITH ARANKA FEEL VERY FAMILIAR. SHE LOOKS A LAYER DEEPER IN THE PROCESS TO BE ABLE TO MAKE CONTACT WITH YOUR TRUE POTENTIAL. FROM HER CLEAR AND CALM PRESENCE SHE ASKS SPECIFIC QUESTIONS THAT PROVIDE MORE CLARITY. SHE IS ABLE TO TAKE A LOOK AT THE TIMELESS JOURNEY OF YOUR TRUE NATURE AND THEN DESCRIBE THESE IN PRACTICAL GOALS SO THAT THEY CAN BE MANIFESTED IN THEIR OWN UNIQUE WAY IN THE HERE AND NOW. "
– Brechje de Vetten, yoga teacher and massage therapist, Abcoude.
Read more testimonials here.