The wisdom Compass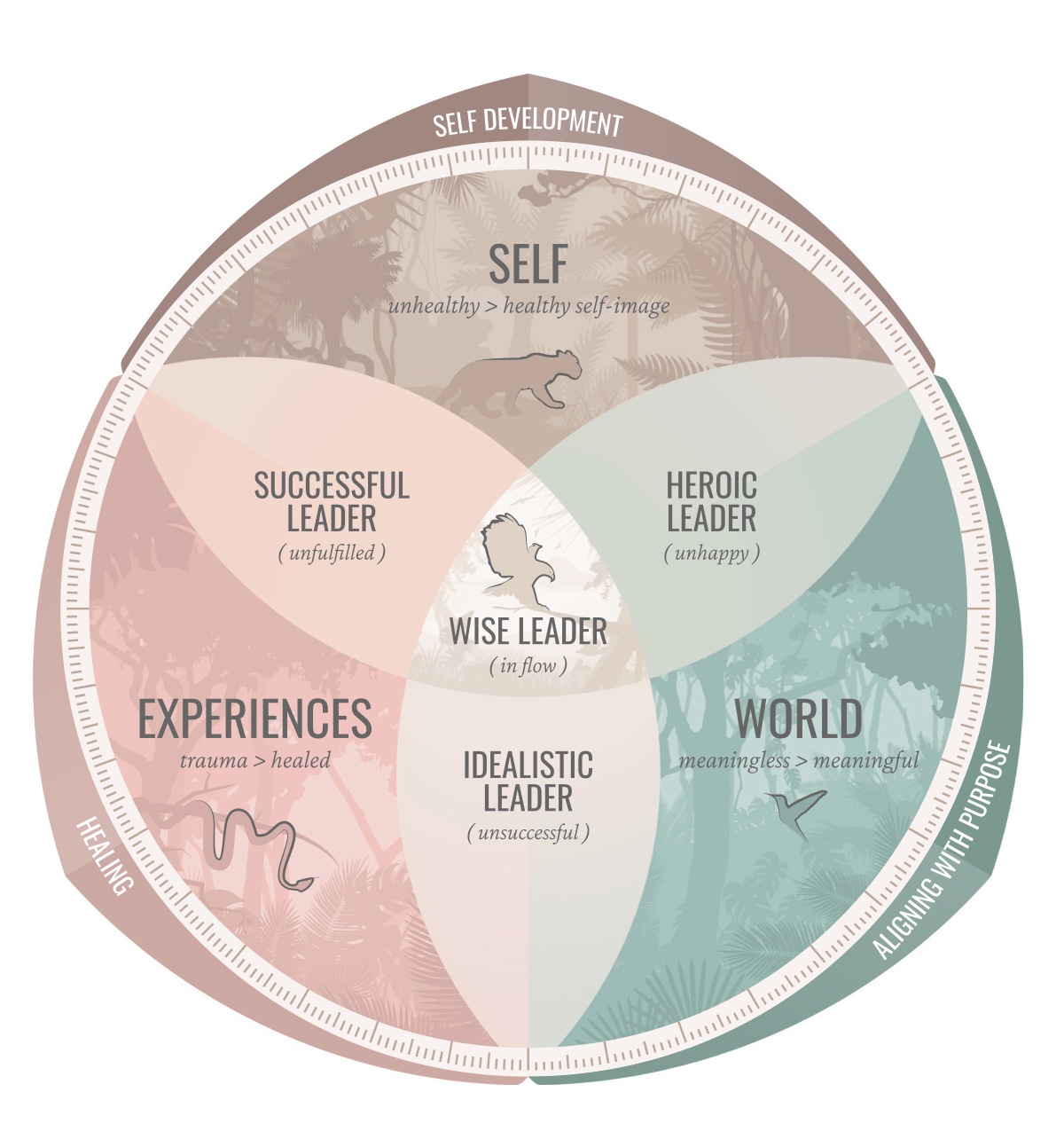 This WISDOM COMPASS is a brand new tool developed by Junglebirds, based on research in the fields of NLP, neuroscience and ancient wisdom.
The compass helps you navigate through the jungle of life. It points to where you stand in your life and which path you should follow to become wiser.
Becoming a Wise Leader starts with mastering three areas:
Experiences: embrace your experiences by physical and mental practices.
Self: develop a healthy self-image through personal self-development.
World: find meaning in your life by aligning to a higher purpose
Depending on where you are at, the compass will give you specific directions to help you overcome your challenges.
The 7 components of wisdom
Mastering the three fields in the wisdom compass will lead you to the 7 components in the heart of the wisdom compass.
According to scientific research by Dr. Dilip Jeste, wisdom is a very real and deeply multilayered set of traits.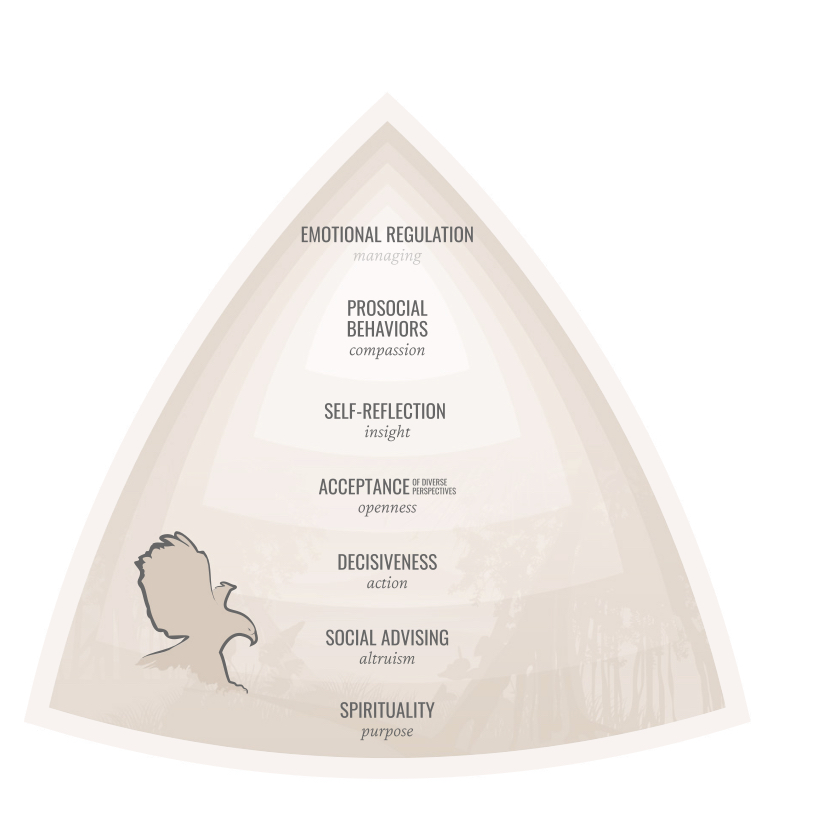 Wise people score high on:
Prosocial behaviours (empathy, compassion and altruism)
Emotional regulation (self-control)
Self-reflection and understanding (insight, intuition and self-awareness)
Acceptance of uncertainty and diverse perspectives (openness)
Decisiveness in uncertainty (balanced thinking)
Social advising (sharing life knowledge and skills)
Spirituality (connection with something bigger)
As all these components overlap and interact with each other, 'emotional regulation' influences the other ones the most.
Through groundbreaking research by Dr. Lisa Feldman Barrett and the new RETaC method of change expert Wassili Zafiris we now know how emotions work and how to transform them. By using unconscious reminders we can change our predictions and create new neurological networks in the brain. This means we can train you to become wiser!
Interested in becoming a Wise Leader by applying the WISDOM COMPASS tool to your professional development? Contact us for coaching, training and workshops.
A Wider perspective
The wisdom compass also captures a wider perspective held by indigenous people on how we are all interconnected in one big ecosystem. It reminds us we need others, communities, rituals and nature to heal, grow and become wiser. The animals in the compass symbolise that wisdom.

the four leaders
What kind of leader are you?
THE SUCCESSFUL LEADER
When you master the fields of Experiences and Self, you're a Successful Leader. You have a great career and life is good,
but it feels like time is slipping through your fingers.
There are moments you ask yourself: is this it?
At times you feel empty and you miss meaning in your life.
Your opportunity: Purpose Alignment
THE HEROIC LEADER
When you master the fields of Self and World, you're a Heroic Leader. You have a clear purpose and the mindset and skills to act on it. But at the same time you feel unhappy, agitated, frustrated and sad. You spend a lot of time and energy on your mission, while forgetting yourself.
Your opportunity: Healing
THE IDEALISTIC LEADER
When you master the fields of Experiences and World, you're an Idealistic leader. You've embraced your past and have a clear world vision, but you are frustrated by not 'succeeding' in life. A lack of self knowledge and limiting beliefs is withholding you from transforming your vision into reality.
Your opportunity: Self Development
THE WISE LEADER
When you master all three fields you're a Wise Leader. You've embraced your past, you are fully aligned with your purpose and you have the mindset and skills to transform this into reality. You feel happy, fulfilled and in flow.
Your opportunity: Share your wisdom
WE NEED WISE LEADERS MORE THAN EVER
(Sources: Harvard Business Review, Forbes)
During a challenging time where businesses and brands are attempting to reinvent themselves, three factors are increasingly significant for this era:

The speed of change: what may be relevant today, may be extinct tomorrow.
The cultural demographic shift: it's less about the business defining the individual and more about the individual defining the business.
The social paradigm shift: climate change, pandemics, globalisation, digitalization and the urge to put more effort intodiversity, equity and inclusion.
These factors ask for a different approach and require us as leaders to cultivate more wisdom in and outside the workplace. Although the world continuously feeds us with knowledge, we don't have all of the answers or capabilities to respond to our ever changing and uncertain world. Even when we think that we do, our current reality tells us otherwise.
Are you courageous and wise enough to accept this reality? It's time to take ownership of a new leadership approach that effectively navigates this new normal.
Interested in becoming a Wise Leader by applying the WISDOM COMPASS tool to your professional development? Contact us for coaching, training and workshops.
---
testimonials
"Aranka knows how to stimulate you to put aside all blinders, beliefs or obstacles. she helps you to bring out what you feel and know inside and to convert that into a vision and a plan."

– Annette Gerritsen, marketing and communication at Topsport Amsterdam.
"Aranka is great! Her coaching has helped me greatly in finding mypurpose and reconnecting with my inner being. she is highlyskilled, full of energy and very inspiring. Highly recommend!"

– Sam van der Schot, Legal Engineer at Loyens and Loeff, Amsterdam.
"Aranka's knowledge, clear and transparent approach has ensured that I have a clearer picture of who I am and which path I want to take."

– Nicci Severens, founder Lotus Sailing, Amsterdam.